The Suunto® watches get an augmented reality head-up display upgrade with Activelook®!

Suunto®, the iconic Finish brand, opens its API to the Activelook® technology to connect its watches to the world's lightest AR eyewear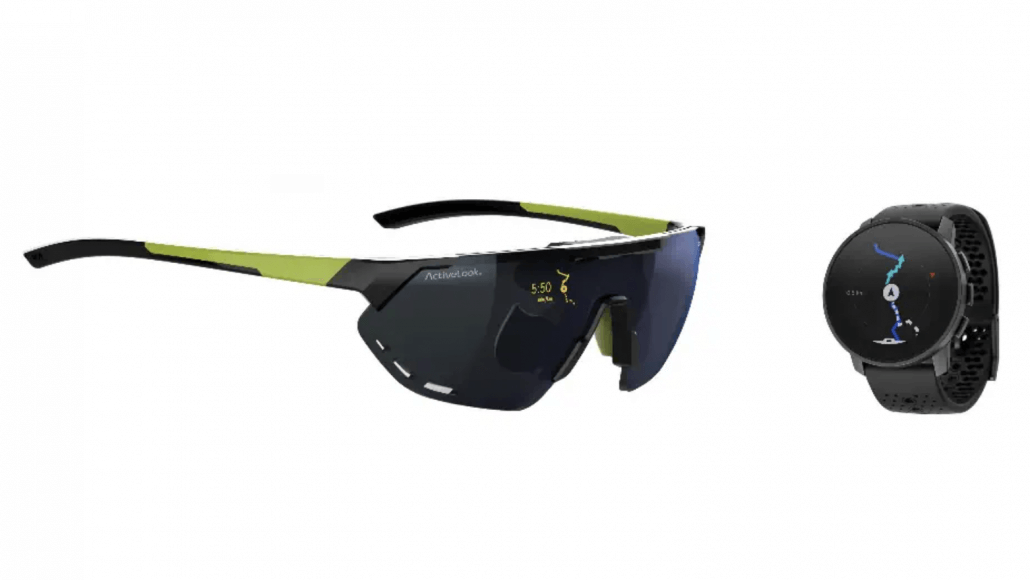 February 28, 2022 – Two European players, Activelook®, the head-up display technology integrated in smartglasses, and Suunto®, the Finnish manufacturer of sports watches, are pleased to announce their exclusive partnership at Mobile World Congress. Thanks to this partnership, the sport data measured by the Suunto devices can now be displayed on the world's superlight AR eyewear to enhance the performance of any athlete and outdoor adventurer.
A unique AR technology for a complete sports experience
ActiveLook® is an embedded head-up display technology that fits into sleek, lightweight frames and lenses. A dedicated software & hardware technological platform allows any eyewear and sports manufacturers to easily take a leap into AR technology.
ActiveLook®'s miniaturized and invisible AR technology displays essential performance data without obstructing the field of vision. Specifically, a smart chip integrated into the eyewear projects data to a discrete near-eye display that "melts" into the optics. It gives access in real time to whatever data is monitored by athletes as they train or compete, such as distance covered, elapsed time, their speed, pace, or heartbeat.
A hands-free coach in AR
Already recognized as a driver to improving the athlete's motivation and safety, the real-time data monitored by the Suunto devices adapts to any sport practiced at any level: barometric altitude, route navigation, sport-specific maps, etc., while providing an overview of key indicators (distance, speed, heart rate, cadence, etc.).
Thus, the combination of ActiveLook®'s AR eyewear with the Suunto sport watches came almost naturally, to offer a totally immersive and renewed sporting experience. Boosted by sensors, the smart watch works as the central calculation unit gathering all the key data needed by the athlete. The smartglasses then send the data to the athlete, ensuring a simple, discrete and intuitive visuals access to their performance. A key to long term sport practice success!
Coaching & Orientation: The immersive experience of running
The projection in the smart glasses provides athletes with the ideal conditions to enhance training, motivation and performance. For outdoor sports, ActiveLook® and Suunto's blend of expertise is the perfect complement. So, when the athlete is running alone in the wilderness, riding a forest trail on a mountain bike, riding in a pack, training in a group, or tackling difficult slopes and tight turns, the data is automatically projected on the near-eye display. It saves time and allows the athlete to focus on their practice and experience without having to make any additional gesture to access their data.
It also makes the journey safer. Thus, featuring "road" alerts that are sent to the athletes while running, the Suunto® watches allow them to adapt their practice, equipment and effort to gain in performance, skill and safety. The experience becomes immersive, as the Activelook® smartglasses unleash the latent value of the high-performance sensors integrated into the Suunto® watches.
Technology at the service of people and sports
Xavier Bonjour, Marketing & Partnerships Director of ActiveLook®, explains: "With our technology, the head-up display enters a new era: athletic performance and safety. It proves that this technology has become mature! Free of distortion or distractions, the glasses can now offer new services that make sport safer and more fun".
Janne Kallio Head of Partner Products of Suunto®, adds: "Athletes using Activelook with Suunto watches will be able to fully focus on their experience running in rocky trails or speeding down the mountains with their bikes or skies. This co-operation really brings future innovation to today's consumers".
The complementary nature of connected watches and glasses is ushering in a new era in sports. It extends the already successful indoor sports experience of players such as Peloton and Swift to the outdoors. Activelook® is a new kind of partner for the Finnish watch brand. For the first time, Suunto® is opening up its devices and technology to third-party content. A promising European and technological collaboration in many multi-device uses.
A prototype of the ActiveLook®- compatible Suunto® app was on display during MWC in Barcelona, Spain, February 28 to March 3, 2022, at Hall 7 Stand 7E23.
The prototype was functional on the latest Suunto® 9 Peak and work with any eyewear integrating ActiveLook®'s technology.
Activelook® is on the shortlist for Glomo Mobile Awards 2022 in the Best Connected Consumer Devices category.
About d'ActiveLook®
ActiveLook® is the specialist augmented reality division of the French company MICROOLED, which manufactures high-resolution OLED microdisplays with very low energy consumption. ActiveLook® is developing a compact module that can be integrated into eyewear and connected to a smartphone or smartwatch app to manage the data screened on the near-eye display. The system works in conjunction with the ActiveLook app, which is compatible with Garmin and other devices. This solution has already been adopted by sports eyewear manufacturers including Julbo, Engo eyewear, and now Cosmo Connected. https://www.activelook.net/
About Suunto
We stand for adventure. Pioneering exploration has been in our DNA since 1936, when Finnish orienteer Tuomas Vohlonen set out to create a more accurate compass, and subsequently invented a new method for manufacturing liquid‐filled compasses. Today Suunto is at the forefront of design and innovation for sports watches, dive computers and instruments used by adventurers all over the globe.
Eighty-four years removed from our founding, we are proud that Suunto products can take a beating, but are also designed with an everyday aesthetic that reflects our Nordic identity. Suunto's headquarters and factory are still in Finland. https://www.suunto.com
https://microoled.net/wp-content/uploads/2022/03/ActiveLook-Suunto.png
696
1390
Microoled Team
/wp-content/uploads/2021/01/Microoled-logo-tagline-VECTOR.svg
Microoled Team
2022-03-08 17:15:27
2022-03-08 17:19:29
The Suunto® watches get an augmented reality head-up display upgrade with Activelook®!