Strava Live Segments in Augmented Reality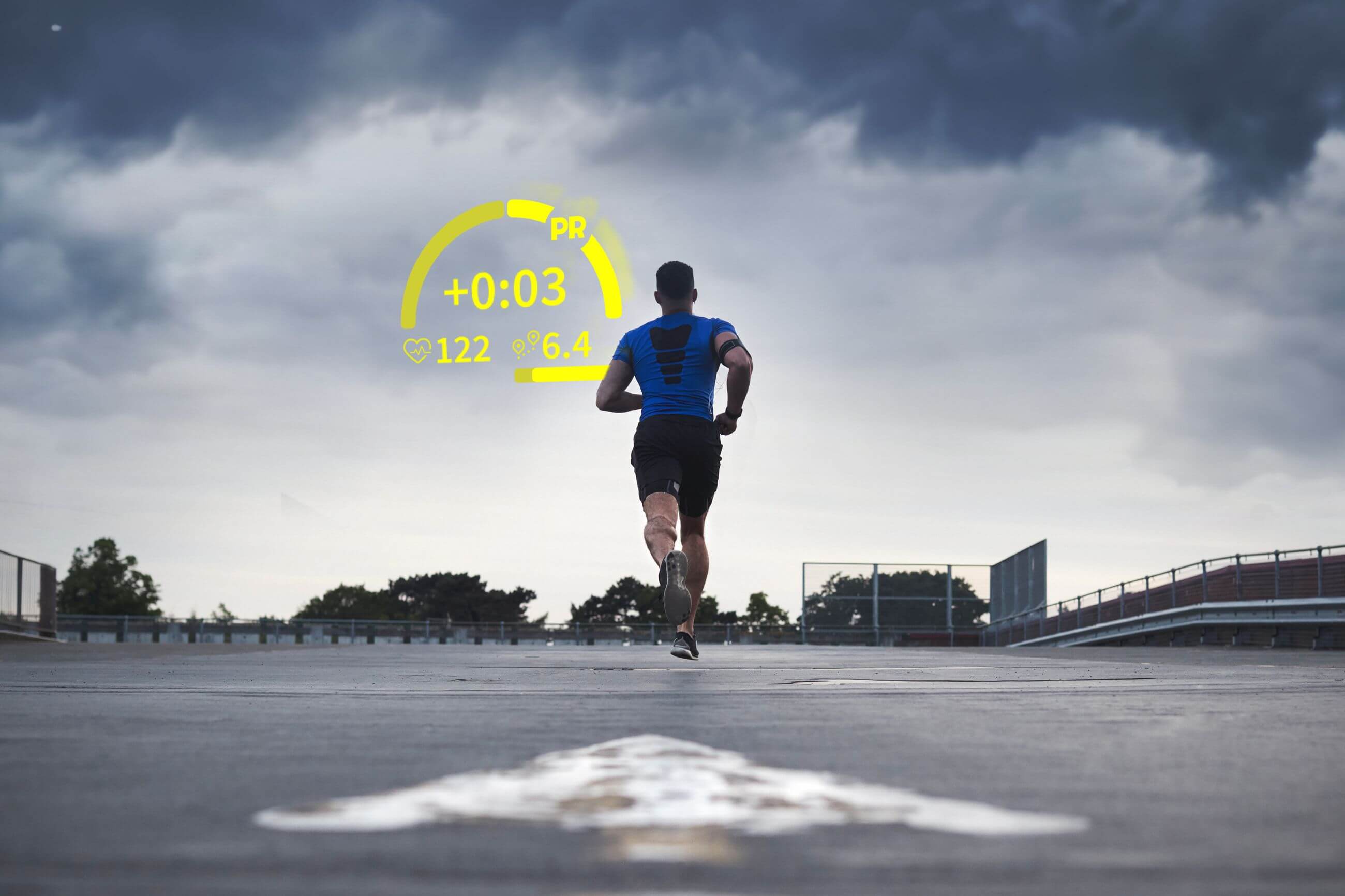 New ActiveLook Application Introduces First-Ever Strava Live Segments Experience on Apple Watch for Runners and Cyclists… in Augmented Reality !
‍
Grenoble, October 23rd, 2023 – MICROOLED, the leading manufacturer of near-eye micro displays, today announced a major update to its ActiveLook application for Apple Watch, which now features direct Strava integration.ActiveLook is the first AR eyewear solution that connects to Apple Watch, and the first Apple Watch application of any type to display Strava Live Segments – a transformative benefit to runners and cyclists who use Apple Watch and Strava.
"Powered byActiveLook" eyewear products connect directly to Apple Watch via Bluetooth, and display fitness data such as heart rate, pace, distance, laps, and other sports metrics. Athletes subscribed to Strava are now able to view and continuously monitor their performance versus prior efforts ("PR") as well as versus selected competitors in real-time, when using ActiveLook compatible eyewear such as Engo Eyewear.
Strava is the leading subscription platform at the center of connected fitness, with more than 100million active people in more than 190 countries. In addition to Strava integration, the ActiveLook app also incorporates the newest Apple Watch functionality available in Watch OS 10. The ActiveLook + Apple Watch + Strava experience offers runners and cyclists meaningful advantages in motivation, gamification, and live performance insight.
Real-time performance metrics typically viewed on large, stationary screens are now available to view during live outdoor activity, for training or competition. For the first time,ActiveLook + Strava delivers an advanced digital fitness experience to anyone with an Apple Watch and ActiveLook compatible eyewear – anywhere, anytime.
Developed by MICROOLED, ActiveLook is a unique set of technologies, which include a companion app for smart eyewear. ActiveLook was developed for smart eyewear to deliver best-in-class brightness, light weight, and long battery life for up to12 hours of use – enough to complete a marathon or the bike/run segments of a triathlon**. Athletes choose the metrics they want to monitor for training or competition, such as heart rate, power, pace, cadence, and more. With performance metrics instantly viewable in compatible eyewear, athletes remain focused on their performance – without breaking stride or changing body mechanics to attempt to read a watch on the wrist, or a small cycling computer on handlebars.
In addition to improved ability to manage effort and performance, athletes maintain eyes up, on the road ahead, to gain improved safety and situational awareness, without looking down.
"The integration of Strava's Live Segment functionalities into the ActiveLook application add a unique dimension to endurance sports activities by making data significantly more readable and therefore actionable," said Eric Marcellin-Dibon, CEO of ENGO Eyewear and MICROOLED "ActiveLook benefits athletes the same way that a heads-up display benefits fighter pilots. Our view is that AR has the potential to make people better, smarter, and faster. The new ActiveLook app is a great demonstration of what's possible with the ActiveLook"Light AR" development platform.
Strava Live Segments unlocks real-time feedback for athletes, providing information on how they're tracking against their personal and overall top efforts on a segment.ActiveLook also displays advanced Apple Watch metrics such as Running Dynamics(e.g., vertical oscillation and stride length) to enable athletes to see and feel changes in body mechanics in real-time. Until now, this was only possible in post-activity review.
Continuously available information enables athletes to better manage effort, maintain concentration, fluid movement, and to avoid loss of efficiency when looking at the wrist, or handlebars. The ActiveLook experience is similar to viewing the dashboard in a motor vehicle – it's not distracting and does not interfere with normal vision, however it is instantly accessible when needed. The newActiveLook update also introduces "Widgets" – an intuitive graphical interface which enables instant access to performance metrics.
The new ActiveLook app for Apple Watch is compatible with existing Powered by ActiveLook products, such as ENGO and Julbo.
The ActiveLook application for Apple Watch will also support new cycling metrics and sensor connectivity options introduced by Apple in WatchOS10. For the first time, cyclists using Apple Watch will be able to view cadence, power, and other sensor data directly in eyewear Powered by ActiveLook, without taking eyes off the road. These new data types are in addition to heart rate, speed, distance, running dynamics, and more than 40 data types available in the current application.
*Strava segments are sections of routes from a few hundred meters to a few kilometers or more, on which Strava users record and compare their performance and progress.There are hundreds of millions of segments all over the world. A 'King Of theMountain' ( KOM ) status is awarded to the holder of the best time in each segment. Live Segments is a feature available on certain connected bike computers and watches, allowing athletes to monitor gaps live while running or cycling through a segment. For the first time, ActiveLook brings this feature to the Apple Watch and to connected eyewear.
**AppleWatch battery life varies by model and use case. The Apple Watch Ultra has the longest battery life, is recommended for endurance athletes, and will provide 8+ hours of continuous activity tracking with a live ActiveLook session and a connection to compatible eyewear.
More information on the ActiveLook application for Apple Watch:
https://www.activelook.net/pages/activelook-apple-watch
ENGO Eyewear"Powered by Activelook": https://www.engoeyewear.com
An illustrative video: https://youtu.be/yX5iyIk0Eic
Press Kit : https://drive.google.com/drive/folders/1YgMXTZf-YrRmnl6dpd-BSTtK8aM-yH9K?usp=drive_link
About MICROOLED:
MICROOLEDspecializes in the design,production and marketing of OLED microdisplays for near-eye applications(outdoor optical equipment, night vision glasses, ocular equipment for medicaldevices, augmented reality glasses, etc.). MICROOLED is a key partner of theworld's top technology integrators with a unique technology that combines highresolution, high brightness, and low energy consumption. The company is thelargest manufacturer of its kind outside of Asia, and one of the largestmanufacturers, globally, in its historical markets.
Press contacts
Jean-FrançoisKitten: +33 6 11 29 30 28 – jf@licencek.com
AnnaAzarova (ENG): + 33 7 49 29 51 04 – a.azarova@licencek.com
Thérèse-MarieCommunal: +33 6 28 16 56 91 – tm.communal@licencek.com
d by Tink; Believe (BLV.PA) – listed on Euronext; Arteris (AIP) listed on Nasdaq). LinkedIn and Twitter: @Ventech_VC
https://microoled.net/wp-content/uploads/2023/11/6540d46246c4c3528b81b5cd_visu_5_OK-p-2600.jpg
1732
2600
Microoled Team
/wp-content/uploads/2021/01/Microoled-logo-tagline-VECTOR.svg
Microoled Team
2023-11-17 10:38:13
2023-11-17 10:50:41
Strava Live Segments in Augmented Reality